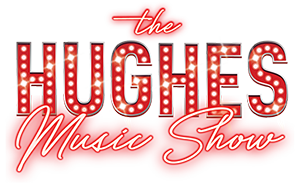 You're going to have a great time checking out the Hughes Music Show. This award-winning show incorporates all the elements that make this a true Hughes Brothers Production: the charismatic and dynamic Hughes Brothers, their stunningly beautiful wives, the sensational heart-throb teens, the ridiculously talented children, and an award-winning live band, all clothed in a colorful array of brilliantly conceived costumes. You've never seen so much talent in one family—50 family members!
You can't help but agree that they were "All Born to Entertain!" You will enjoy a variety of great musical genres that showcase soaring vocals (brilliantly arranged) along with captivating original choreography, The Hughes Music Show is one incredible production number after another, magnified by vibrant innovative lighting and state-of-the-art sound. You might just have to agree that you have witnessed a whole new level of live performance excellence. The Hughes Music Show defines musical excellence — "taking the live music show experience where no Branson Show has gone before!"
PLEASE NOTE: If making reservations for dinner, all dinner reservations must be made prior to 5:00 PM. If after 5:00 PM you may still purchase tickets for the show but not for dinner. Thank you.
Click a date to select your tickets